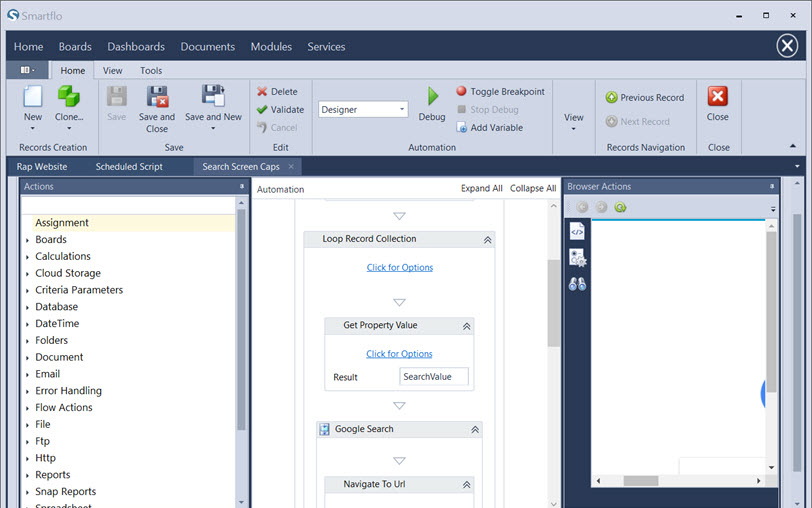 What Is Smartflo and How Can It Help?
Smartflo is Automation...
Automation is the norm these days. It tackles the most tedious of tasks while allowing you the freedom to concentrate on more important matters.
Automation is the central focus of Smartflo. All features, built into Smartflo, is accessible through Automation.
Companies implementing RPA-based solutions often see returns on their investments in as little as one quarter.
Bots can complete tasks, which once took days or weeks over the course of a year, in a matter of hours.
What Can You Automate?
Mix and match automation actions to produce scripts that will take care of most if not all of your needs.
Database Actions
Full access to Smartflo's database including adding, retrieving, deleting and updating of records.
Webpage Actions
Control interactions with webpages as if you were doing it by hand.
FTP Actions
Set up multiple ftp accounts for uploads, downloads, synchronizations and permissions.
Email Actions
Send emails, retrieve emails, search for emails using Smtp, POP3 and IMAP.
Web Scraping Actions
Scrape data from any web page on the internet. Saving to the Smartflo database to be used in Dashboards, Spreadsheets and Reports.
Cloud Storage
Upload, download and control various files/folders in Amazon S3... coming soon Google Drive, OneDrive, Dropbox and Box accounts.
Reporting Actions
Generate full featured reports, adhoc reports, save reports in various formats, print reports or attach reports to emails.
Spreadsheet Actions
Create or manipulate spreadsheets including worksheets, columns, rows, cells and mail merge data.
Document Actions
Load existing documents, create new documents, save documents and even mail merge data with document templates.
Zip File Actions
Add files to existing zip files, create new zip files and unzip existing files.
Kanban Project Actions
Create new projects, add cards to existing projects, delete cards, set statuses, update labels and attach differents types of documents to cards including word docs, spreadsheets, reports, hyperlinks and notes.
Files/Folder Actions
All the importan File and folder operations including creating, renaming, searching, moving, copying and deleting are included.
Http Actions
Make direct http calls including POST, GET, using cookies for fast website interactions.
Check, edit, manipulate and convert text values.
Flow Actions
Build more responsive scripts with the use of If, Loops, Sequences, and Flow Charts.
Date/Time Actions
Get days/months/years from dates, check dates and perform addition for future dates.
Calculation Actions
Perform calculations directly within your scripts on data and retrieve output in various formats.
Online Databases
Securely interact with any of your website online MySql databases.
Start Automating Your Business Right Now...
With the right dashboard, you'll gain key advantages. You'll save tremendous amounts of time, reduce your stress, and increase sales and profits.
"Spreadsheets give me a quick and easy way to impose structure on everyday life, to make my world tidy and trackable and ultimately, more efficient."
Danae Shell
By pulling data into a single place, and with use of some analytical tools, you may be able to spot opportunities you couldn't "see" before.
Smartflo is Decision Making Made Easy...
It is getting more and more difficult to make decisions when information is in many different locations and formats. Smartflo works to bringing all that data, in all those formats, into one central place.
Plug in all that data, from all those locations, into Smartflo's built-in Dashboards, Spreadsheets and Reports.
The insights that you will see will shock you!
Smartflo Connects To Websites and Online Services...
We live in a world where we log into our own websites and online services every day. Moving information from location to location is combersome and prone to making catastrophic errors.
Smartflo allows you to tap into your data on websites and online services to help you manage and safely move data between services.
Services and Website's are also available through Automation.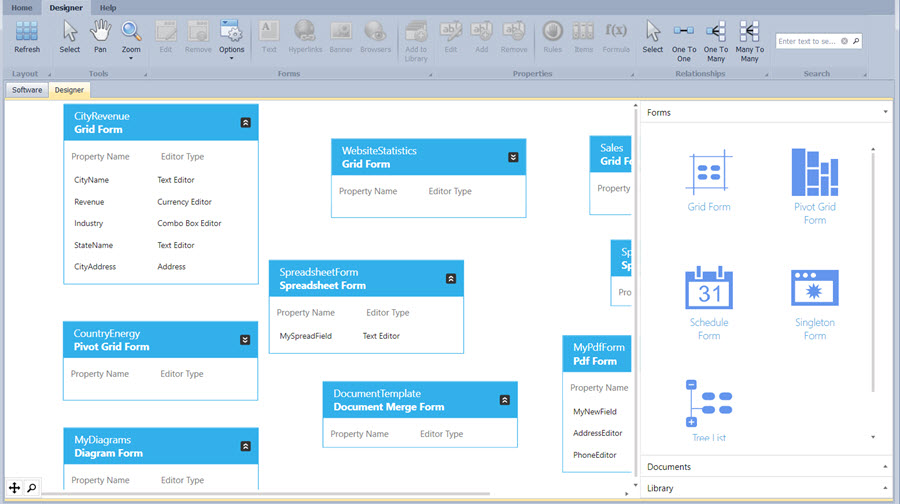 Smartflo Is Custom Solutions For Your Unique Business...
All businesses are unique and with that require unique solutions. We know your pain, as a fellow online entreprenuare, and built in features that allow you to create those customer solutions.
Choose From Several Types of Forms
Different Forms Come With Different Features
Grid Form
The grid form is the most common form. It comes with a grid list view and a detail view is shown when double clicking on a record. You can group, filter, find and create formatting rules based on column values.
Pivot Form
The pivot form is great for processing large amounts of data. All data is shown within the pivot form. You can swtich between the pivot view and a grid view when it comes time to do some data entry or editing.
Treelist Form
This is the form to use when you want to display a parent child like relationship. Clicking on one node shows all children. Double clicking on the record also brings up the detail view of that record. You can filter, find and create formatting rules based on column values.
Singleton Form
A singleton form has no lists since there will be only one record. This form displays a detail view of one record. This is a typical form you would see when storing main "settings" type of data.
Schedule Form
The schedule form will give you a calender like interface for appointments and tasks. Double click anywhere on the schedule to bring up the appointment window. Changing views to daily, weekly, monthly and timeline is a easy click.
Diagram Form
Displays a diagramming designer with many different shapes that can be dragged onto the main diagramming area. Add relationships, styling and text to any shape to illustrate different types of processes.
Mindmap Form
Displays a mindmap designer allowing you to brainstorm different ideas. You can change styles of nodes, add images, change shapes and more... to fully realize great ideas at a quick pace.
Document Form
Stores a list of documents within Smartflo. When opening a record, a complete word processing platform is available where you can create ebooks, marketing material, training material, help files, etc...
Document Merge Form
Creates a template form that contains variables that will be merged with data. Great for setting up invoices, mailers, or other specialized documents.
Pdf Form
Displays a list of pdf documents that is stored within Smartflo. Double clicking a record will open the pdf document inside a internal Pdf Viewer. The viewer allows you to highlight text and even take notes on specific pages.
Spreadsheet Form
Stores spreadsheets within Smartflo. Opening a record will open the spreadsheet into a fully functional spreadsheet component. Add new worksheets, select from a library of formulas, style rows and columns. Enjoy everything a modern spreadsheet application should have.
Spreadsheet Merge Form
Create spreadsheet templates with variables that can later be merged with data. You can generate great looking spreadsheets, with charts, at a click of a button.
Click Get Smarflo To Find Out Your How Much You Customer Is Worth...
Using a to-do list enables you to mark off the tasks you have completed. At the end of the day, when you look at the list, it will give you a sense of accomplishment and satisfaction. .
Even when you are overwhelmed with tasks, the most important thing you can do is make a plan on how to get them done, starting with a to-do list. Simply writing the tasks down will make you more effective.

Smartflo is Mind-Blowing Productivity...
It's difficult being productive when we rely on many different types of applications to complete our business.
We jam packed most of the typical productivity programs that everyone uses day-to-day. Making everything accessible within one location saves massive time.
Most Productivity Features are also accessible within the Automation allowing for mind-blowing productivity.
Many Of The Productivity Features Could Be Sold As Separate Programs.
Mindmaps
Take advantage of Smartflo's unique take on mindmapping to help you better analyze, structure, and comprehend ideas and information.
Diagrams
Build out business processes like sales funnels or email sequences with a huge library of drag and drop shapes.
Spreadsheets
Store, analyze, collect and merge data into spreadsheets that can later be saved in the most common formats.
Documents
Building and storing great looking documents is fast and easy.
Pdf Viewer
Get the most out of locally categorized pdf's with note taking and text highlighting.
KPI
Incorporate Key Performance Indicators to track business goals.
State Machine
Defines a set of states and their corresponding transitions for custom forms.
Custom Forms
Build a one of a kind software solution by creating unlimited custom forms for special business needs.
Reports
Create beautiful reports for internal use or to send to existing customers.


Ad-Hoc Reports
Generate fast, professional looking reports within a more familiar word-like designer.
Task Manager
Work more efficiently by keeping track of progress with the built in Kanban Task Manager.
Start Making Life Easier By Clicking BUY NOW.
Disclaimer: Prices May Increase As features are Added
$9.97 first Month
A single license for one person.
Smartflo runs on Windows 7 or Higher.
Cancel Anytime
You can simply log into your Paypal account and cancel any time. Software will not work once cancellation is completed.
Licensing
Licensing is on a per user basis. You can install Smartflo on two computers as long as both are used by the same license holder.